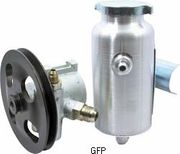 Kits are designed to aid installation of a remote type power steering pump to most cars. Since there are many different applications in which this kit can be used, steering box fittings will need to be purchased separately. Two kits are available, the short kit is for vehicles with the engine in the stock location. The long kit is for vehicles with the engine "set back" in the chassis.Hose Kits (Long)



Don't see what you want? .......... Need help?
Or, IF THERE IS NO ORDER BUTTON AVAILABLE on the part you want to buy, please call us

TOLL FREE at
1-888-6 GO FAST(1-888-646-3278)

Monday - Friday 8AM - 4:30PM Pacific Time
and talk to one of our experienced Sales Agents.




Some parts may not be legal for sale or use in California and other states on any polution controlled motor vehicles. Check your local laws for use.

Copyright © GoFastParts.com all rights reserved. No part of this site may be reproduced without prior written consent.