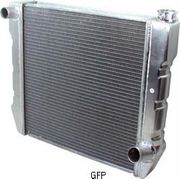 Allstar Aluminum Radiators offer excellent quality at an affordable price. Filler necks are machined, not stamped, and water tanks are furnace brazed, not epoxied, eliminating two prime sources of leakage! The lightweight 1" tubes, arranged in two rows, offer excellent cooling and make the radiators ideal for use in all types of race cars, off-road vehicles and street machines. Available to fit Ford or GM powered vehicles, standard 1-1/2" inlets and 1-3/4" outlets have beaded hose fittings. RadChevy Radiator 19" X 31"



Don't see what you want? .......... Need help?
Or, IF THERE IS NO ORDER BUTTON AVAILABLE on the part you want to buy, please call us

TOLL FREE at
1-888-6 GO FAST(1-888-646-3278)

Monday - Friday 8AM - 4:30PM Pacific Time
and talk to one of our experienced Sales Agents.




Some parts may not be legal for sale or use in California and other states on any polution controlled motor vehicles. Check your local laws for use.

Copyright © GoFastParts.com all rights reserved. No part of this site may be reproduced without prior written consent.