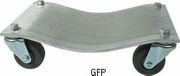 Move cars easily to make more room in garage or race shop. Dollies, offered in steel or aluminum, have rounded lower sections to safely cradle each tire. Steel dollies are 14-1/2" wide x 23-1/2" long with standard casters for use with cars weighing less than 2,500 lbs. Aluminum dollies are 10" wide x 15-3/4" long with standard casters for cars up to 3,500 pounds or deluxe ball bearing swivel casters to accommodate cars up to 5,000 pounds. Deluxe casters also include one wheel brake per dolly. AAluminum Wheel Dollies, Deluxe Casters, For Cars Weighing 3,500-5,000 lbs.



Don't see what you want? .......... Need help?
Or, IF THERE IS NO ORDER BUTTON AVAILABLE on the part you want to buy, please call us

TOLL FREE at
1-888-6 GO FAST(1-888-646-3278)

Monday - Friday 8AM - 4:30PM Pacific Time
and talk to one of our experienced Sales Agents.




Some parts may not be legal for sale or use in California and other states on any polution controlled motor vehicles. Check your local laws for use.

Copyright © GoFastParts.com all rights reserved. No part of this site may be reproduced without prior written consent.